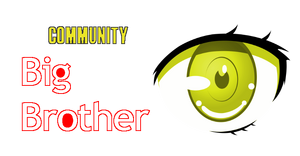 Community Big Brother is a reality game show based on Endemol's Dutch-based realty gaming franchise, Big Brother.
Objectives
10 housemates try to survive inside the Big Brother house for 90 days, a voice of Big Brother inside the house will give some special tasks.
Nomination Night
On days 9, 20, 39, 57, 64, 73 & 85, housemates will vote for a nomination for eviction from the Big Brother House.
Eviction Night
On day 13, 28, 46, 62, 68, 77 & 87, users who has more votes for eviction by one of their housemates will evict from Big Brother house.
The Big Night
Four days after day 90, four remaining housemates are joined for determination who's the big winner. The more votes of one of the four housemates will be the the Big Winner and he/she will given a big reward of ¥1 trillion and a brand new 2016 Subaru Forester. Lower votes by few users will be consisting of a runner-up (2nd placer), 3rd placer & 4th place.
Confirmed housemates
Hosts & Judges
Day Transcripts
Prolouge
TBA
Day 1
Ad blocker interference detected!
Wikia is a free-to-use site that makes money from advertising. We have a modified experience for viewers using ad blockers

Wikia is not accessible if you've made further modifications. Remove the custom ad blocker rule(s) and the page will load as expected.