Hold it right there – this isn't a proper writing style!

This article (Krimzon Guards) does not follow the wiki's Manual of Style. You can help the Nihon Fanon Wiki by improving it. See the Guide of Writing page for guidelines on writing articles.
Krimzon Guards are The Military Police From The Video Game Jak 2! When Someone Causes a Bad Thing to Happen, Then Community City and Haven City Will Be in The High Alert Zone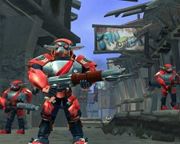 Ad blocker interference detected!
Wikia is a free-to-use site that makes money from advertising. We have a modified experience for viewers using ad blockers

Wikia is not accessible if you've made further modifications. Remove the custom ad blocker rule(s) and the page will load as expected.