Uranohoshi Girls' High School


浦の星女学院


The school's exterior.

Location

Japan
Uranohoshi Girls' High School, also known as Uranohoshi Girls' Academy (浦の星女学院, Uranohoshi Jogakuin?), is a high school located in Japan. This is the school the idol group, Aqours, goes to.
Trivia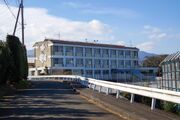 The school is based on a real world counterpart model of the Nagaisaki Junior High School (沼津市立長井崎中学校), which is relatively located in Numazu, Shizuoka Prefecture, Japan.
Ad blocker interference detected!
Wikia is a free-to-use site that makes money from advertising. We have a modified experience for viewers using ad blockers

Wikia is not accessible if you've made further modifications. Remove the custom ad blocker rule(s) and the page will load as expected.